COVID-19 VACCINATIONS & INFORMATION
Hoosiers age 70 and older may now begin scheduling appointments to receive the COVID-19 vaccine. 
Appointments can be scheduled by visiting the Ourshot website (ourshot.in.gov) Those needing assistance with registration may call 211 or one of Indiana's Area Agencies on Aging. A caregiver or loved one also may make an appointment on behalf of an eligible senior.
Learn more from this flyer, which lists the minimum age as 80, but that has now been lowered to 70.
Get the latest COVID-19 information at the Indiana Department of Health website.
Morgan County COVID-19 Vaccine Sites
The vaccine site in Morgan County is shown below (1209 South Main Street, Martinsville–where Save-a-Lot used to be).  Please note that you must first register before going there to get your shots.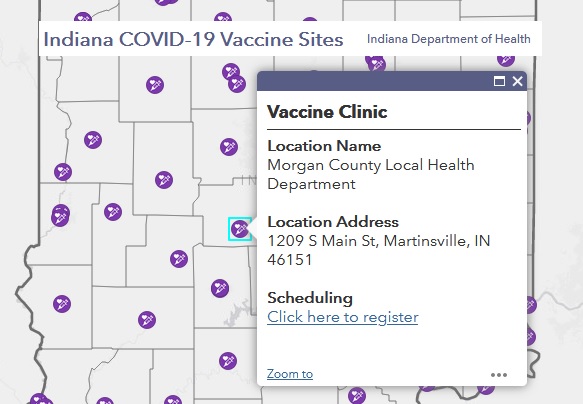 Register for Your Vaccine Using Our Special Computer
Outside the library's computer lab is a dedicated computer you may use to register for your COVID-19 vaccine and to obtain more information about vaccination and vaccine sites.
The Library's COVID-19 Rules
We invite you to come browse the collection, use our computers, and checkout materials — but a reminder:
Due to the ongoing COVID-19 pandemic, our library services and capacity are still limited. To remain open, we must have a healthy and safe environment for our staff as well as our patrons. Below is an always-current summary of the services we're offering and any other limitations in place.
The Library is OPEN for regular business hours. We Welcome you BACK!
Properly worn face coverings or masks are required during your visit.  
Seating inside the library

is limited and spaced apart

for social distancing.
The courtyard is available, but all library policies apply.
Free WiFi is available 24/7 in our parking lot (strongest signal is in our north parking lot).
We offer Curbside services by appointment.
Public computers are

available and spaced apart

to support social distancing.
The Indiana Room is

open.

We encourage you to view our virtual programming!
Friends of the Library is

not accepting donations

at this time, but the FOL sale room is OPEN to purchase items for your home collection.
Toys are

not available

in the Children's area.
Community and study room reservations are

not available

at this time.
We ask that your visit is limited to one hour or less.
All items returned to the library will be

held in a 72-hour quarantine

. These items may temporarily show as overdue if returned on or near their due date. This will be corrected when the items are checked in.