At-Home Activities

Mooresville (Indiana) Public Library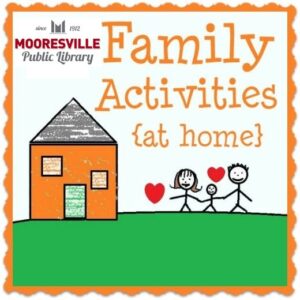 Virtual Activities for Children & Caregivers
Can't come to our youth programs? Try our virtual storytime! We have a large selection of children's videos available online, including readalouds, singalongs, nursery rhymes, craft tips, puppet shows, book recommendations, and many more.
Visit the MPL YouTube Channel to learn more.
Book & Reading Engagement Kit, Home Edition: With seamless connections for students and families, now everyone can bring to life the books they are reading. Awaiting you are 172,000+ videos, audio recordings, activities, and lessons to enrich your community's virtual learning. These enable readers to stay connected to favorite books.
Storyline Online is a website that has many readaloud videos available to watch free.
Scholastic has many free elementary & middle school virtual activities for students to do at home.
There are lots of fun activities you may do at home! (Our thanks to Greenwood Public Library and ALA ALSC blog for sharing!)
TEEN ACTIVITIES
Words Alive: Activities for Teens during COVID-19
Boys & Girls Club
BOOK-RELATED ACTIVITIES
CLASSES ONLINE (FREE)


FAMILY GAMES
FIREFLY AWARD
HELPFUL RESOURCES
LEARNING FUN FOR KIDS
LIBRARY OF CONGRESS ENGAGE
MUSEUM & ZOO ONLINE PROGRAMS & VIRTUAL TOURS
MORE VIRTUAL TOURS
NEIGHBORHOOD TOGETHERNESS AND VIRTUAL VISITS WITH FAMILY & FRIENDS