RETURNED ITEMS ARE QUARANTINED
For the safety of our employees and patrons, we will quarantine all items returned to the library for 3 days before checking them in and allowing other patrons to check them out. This means that items may remain on your account for a few days after you return them. You may even receive an overdue notice. But there is no need to be concerned. We will backdate items upon return, and no late fines will be charged for items returned on time!
Thank you for your understanding as we work to make the library as safe as possible for both our employees and our patrons.
Click Image (Above) to Enlarge
The announcement you've been waiting for!!  The library is now re-opened.  Our current hours are:

Monday-Thursday:  10:00 AM to 6:00 PM
Saturday:  10:00 AM to 4:00 PM
Closed Fridays and Sundays


*  The computer lab will close one hour before the library.



Face coverings are required during your visit.  Please practice social distancing by staying 6 feet apart from anyone outside of your household.  Please stay behind plexiglass protectors when interacting with any staff members at service desks.  Thank you for your cooperation!! 
Click Catherine or Bob (above) to play our fun re-opening promo trailer (video)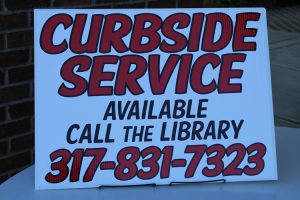 Curbside Service @ MPL
Mooresville Public Library is now offering Contact-Free Curbside Service [by appointment].  For more information visit our curbside services page for complete details.