Curbside Pickup Services

Mooresville (Indiana) Public Library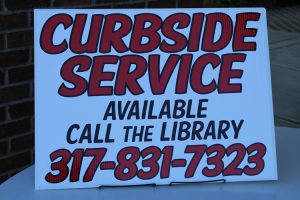 Get your library materials with contactless curbside pickup, in three easy steps!  (Click the photos above to enlarge them.)
Step 1:
Go to our catalog
and place your holds. You will need to log-in with your library card number and PIN. If you do not know your pin, please
contact us
or call us at 317-831-7323 during our open hours.  You will be notified by your preferred method (email, text, automated phone call) when your items are available.  
Step 2:
Go to our online calendar
and register a time to pickup your items after you have received notification that they are available. You can pickup the items at the library anytime during the time block that you schedule. Please wait for your items to become available before scheduling a time. On the calendar, look for "Curbside Hold Pickup". Click on the event and fill out the "Add Registrant" form completely. Don't forget to provide your library card number.
Without your library card number, the registration will not go through.
  If you do not want your items to be delivered in a plastic bag, please also note that in the "Special Notes" area. You will receive a confirmation email when your pickup time registration has been completed. The email will also contain a link to cancel your appointment, if you need to.
Step 3:
Come to the library at your scheduled time. When you arrive, please call 317-831-7323 to tell us you are here and describe your vehicle. We will bring your items out to your vehicle.  If you prefer us to place the items in your trunk or cargo area, please note that in the "Special Notes" area in the calendar registration form.  The items will be in a plastic bag, unless you have instructed otherwise.