1000 BOOKS BEFORE KINDERGARTEN

Mooresville (Indiana) Public Library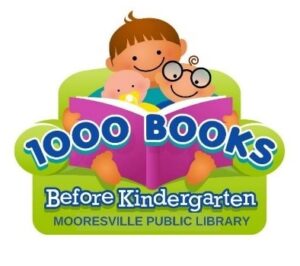 All babies, toddlers, and preschoolers are invited to join Mooresville Public Library's 1000 Books Before Kindergarten program.
What is 1000 Books Before Kindergarten?
1000 Books before Kindergarten is designed to provide a fun way to establish strong literacy skills and help caregivers prepare their child for one of life's big milestones: kindergarten. 
How to participate?
There are two ways to participate: paper log or online.
You can stop by the library (Youth Services department) to register and pick up a paper log. 
If you would like to participate online, you can sign in or register for an account on Beanstack.
Go to BEANSTACK and sign-up for the "1000 Books before Kindergarten at MPL" challenge.
What does reading 1000 books look like?
It is one bedtime story every night for three years.
Ten books a week for two years
Twenty books a week for one year (That's just 3 books a day!)
1000 BBK FAQs
Who can participate? Any child, 0-5 years
When can we sign up? Anytime! This is a year-round program
What books count? Books from the library, books from home, books read during story time, etc.
What prizes will we earn? For every 100 books, your child will earn a stick to put on the mural. At 1000 books, they will receive a book, 1000 BBK bag and their picture on the wall of fame.