Our History

Mooresville (Indiana) Public Library
OVER A CENTURY, AND GROWING
Libraries have a rich history in Mooresville, Indiana.  We began as a workmen's subscription library in 1855, and, in 1912, Mooresville Public Library was established to serve the residents of Mooresville and Brown Township (Morgan County).  We've been a staple of our community for over 100 years and are proud of our progress and continued successes thanks to our patrons, staff, business supporters, and board members.
A STORIED PAST … A BRIGHT FUTURE
Interested in learning more about our early beginnings?  Journey through the decades with us.  Click the photos below, or  click here, to learn our story. Click the slideshow (below the photos) to watch our centennial celebratory slideshow (2012).  Scroll further down to see links to our "treasure trove" local history blog, which recounted the library's historical highlights during our centennial celebration (2012).  Read about the MPL "Carnegie" building dedication on January 27, 1916 (in the next day's Mooresville Times).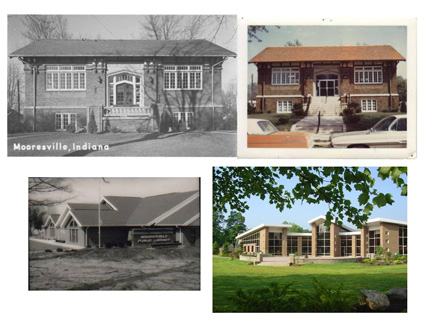 OUR CENTENNIAL CELEBRATORY SLIDESHOW (2012)
2005 ADDITION CONSTRUCTION VIDEO
Want to see what the library looked like during construction of our 2005 addition?  Watch the video below.
1987 CARNEGIE LIBRARY/NEW CONSTRUCTION VIDEO
Want to see what the library looked like in May/June 1987, as well as early construction on the "new" library at its current location?  Watch the video below.
Click the links below to read highlights of the library's history.  (Visit this blog for more historical information about Mooresville and Morgan County, Indiana.)
October 1911:  Mooresville citizens discuss the need for a public library.
January 1912:  Mooresville citizens petition for a public library.
Summer 1912:  Library board seeks grant funding from the Andrew Carnegie Foundation.
January 1913:  Andrew Carnegie Foundation grant received.
Spring 1913:  Furor over proposed library site.
January 1916:  Mooresville Public Library's Dedication (on West Main Street, Mooresville, Indiana).
1920s-1930s:  MPL through the "Roaring Twenties" and Great Depression.
1940s-1950s:  MPL innovates professional practices.
1957-1960:  The Carson Alphabetical Classification System.
1961-1984:  Bonita Marley at the library helm.
1967:  MPL's 50th anniversary (more or less).
1970s:  More renovations, outreach, and tight quarters at MPL.
Mid-1970s:  Some interesting library staff salary information.
Mid-1970s:  Minutiae in MPL board meeting minutes lends interesting historical tidbits.
1975-1983:  Library growth versus budget crunches.
Mid-1980s:  Funding and library services solutions.
1984:  Bonita Marley retires as MPL director.
1987-1988:  New library building in constructed and opened to the public at 220 West Harrison Street, Mooresville, Indiana.
1988:  Goodbye, old Carnegie friend (building on West Main Street, Mooresville, Indiana).
Late 1980s to the present:  Exponential library growth.
1997:  The Claire & Helen Cook Endowment to MPL Youth Services Department.
1997-2004:  MPL goes super high-tech.
2004:  MPL is awarded the Indiana Library Federation (ILF) outstanding library of the year.
2005-2006:  The library addition is constructed and opened to the public.
2007-2008:  MPL improves its exterior space.
2008:  MPL is one of the founding libraries of Evergreen Indiana.
2009:  Library courtyard & pathway to knowledge are constructed.
2010:  MPL's global footprint (social media use).
2010-2011:  The library begins its digital revolution.
December 2010:  MPL "hires" its feline roving reporter.
1966-2002:  Wanda Potts, Mooresville historian (and MPL historical conservator extraordinaire).
May 2012:  Library celebration photos.
May 2012:  More library celebration photos.
May 2012:  Some music performed at MPL centennial celebration.
Summer 2012 – The library is haunted.
August 2012 – New website.
2013 – Computer lab migrated to Userful
2015 – LINK Observatory partnership; new outdoor LED sign.
2016 – Little Free Library park
2017 – MyLibraryRewards (discontinued August 31, 2020)
2019 – Upgraded to LED lighting | New Website | Beth Hensley 2019 ILF Library Champion
2020 – Storywalk in the park; virtual programming & curbside service during COVID-19 pandemic; updated & revised local obituary website, Legacy Links